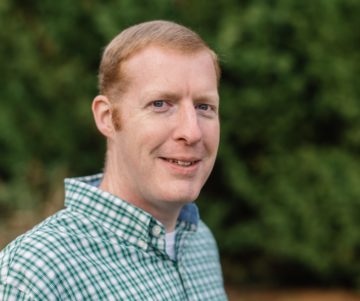 Introducing Brian Devers
HSC Wealth Advisors would like to introduce you to Brian Devers, the newest addition to our team.  Brian is a CPA with 18 years of experience helping individuals and small businesses with their accounting and tax needs.
Brian grew up in Newport News, VA and attended Denbigh Baptist Christian School where his dad was a science teacher.  After high school, he spent one year at Mount Olive College in North Carolina and then transferred to Liberty University.  Brian graduated with a BS in Accounting from Liberty University in 1999.  Not wanting to move back to busy Newport News or Richmond where his parents had relocated while he was in school, Brian decided to make Lynchburg his home.
Brian landed his first, and only job, of 18 years working for Ron Lovelace CPA, currently known as R.L Lovelace and Associates.  Brian passed the CPA exam in 2003 and received his license in 2004.  He has been knee deep in small business and individual taxes ever since, helping clients from a wide variety industries such as sales, manufacturing, consulting, dentistry, real estate, and forestry.
Brian and his wife, Carrie, were married in 2001.  They have been married for 16 years now and have four kids, Thomas, Jeremiah, Nathanael and Amelia.  Brian enjoys playing basketball and coaching his kids' soccer teams.  Carrie enjoys baking and is part of a book tea club.  As a family they are active in their church, enjoy walking and hiking, and playing board games together.
In his 18 years of practice, Brian has grown a passion for personal finance.  Not merely crossing the T's and dotting the I's of tax compliance, but looking at the broader scope of financial planning.  Brian desires to help individuals reach their goals of financial independence through budgeting, saving and eliminating debt.  Brian fits right in with the rest of the HSC team as we all share the same passion for comprehensive financial planning.