HSC Wealth Advisors has a passion for training the next generation of financial planners.  We work in collaboration with several finance professors and the Dean of the Business Department at Liberty University, guest speaking in Investments and Financial Planning classes each year.
We often provide internship opportunities for students looking to enter the financial planning field upon graduation.  These positions are part-time and flexible to accommodate our students' class schedules, and allow students to gain invaluable experience in the industry outside of the classroom as well as general knowledge of a working office environment.  In the past, we have employed students from the Financial Planning and Business programs of both Liberty and Virginia Tech.
The staff at HSC has found that this internship program is a positive learning experience for us as well as for our students. The frequent training of interns as well as their various perspectives help our staff design more efficient systems and operating procedures.
Interns at HSC can expect to gain experience in many aspects of the financial planning industry.  We expose them to initial planning work, continuous client review processes, and data management software programs, all the while saturating them in our investment and wealth management philosophy.  Our goal first and foremost is to equip these students with experience in a way that will empower them to have a more successful and rewarding career.
If you would like more information about our internship program, please contact Justin Victor at justin@hscwa.com or call our office at 434-316-9356.
Meet our current intern – Freddie Harris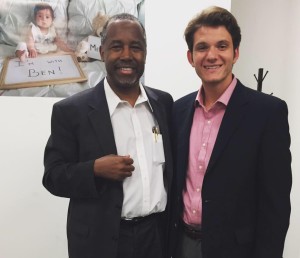 Freddie is a rising junior at James Madison University, studying Finance with a minor in Economics. Freddie is a Lynchburg native and a graduate of New Covenant Schools, having attended there since kindergarten.
After completing his freshman year at JMU, Freddie worked on Ben Carson's Presidential campaign over the summer as an intern for the Finance Committee. Upon returning to JMU for his second year, he was accepted into the Madison Investment Fund, a finance club at JMU which manages $220,000 of JMU's endowment in the stock market with the goal of teaching students through real world experience. Freddie is also involved in InnerVarsity, a Christian organization on campus.
Although he is not entirely certain on which career path that he wishes to pursue after college, Freddie is very interested in financial planning and real estate, and is very eager to learn more about both. In his free time, he loves to play sports, backpack, and travel.