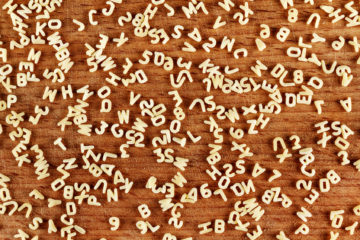 Financial Credentials: Alphabet Soup
Written by Joe Eskridge
Our clients sometimes ask about the various financial credentials held by team members at HSC Wealth Advisors. At HSC Wealth Advisors, we use the following credentials: CFP® Professional; Accredited Investment Fiduciary® (AIF®); Certified Public Accountant (CPA), and Chartered Financial Analyst® (CFA) to name a few.
What Do All These Letters Stand for?
You are not alone if you have trouble telling the difference between a CFP®, CPA/PFS, AIF®, CFA or any of the other credentials found throughout the investment and financial planning industry. Here are a few things to consider about financial credentials as you sift through this abundance of abbreviations, acronyms and firms to find the best financial professionals for you.
Financial Credentials Can Be Faked
Regrettably, like any designation, financial credentials can be used fraudulently. Con artists often try to build credibility and gain trust by claiming to be an expert or have a special credential. Unfortunately, credibility can be faked too. Fortunately, many organizations that issue financial credentials make available a database of those who hold an up-to-date credentials. You should ask anyone who claims to hold a credential when they earned it and whether it is still current; then, verify with the issuing body that this is truly the case.
Is There a Difference Between Being Registered or Licensed and Holding a Professional Financial Credential?
Yes, there is. On the one hand, the ability to provide financial advice requires registering with a governing organization. For example, the U.S. Securities and Exchange Commission (SEC) regulates investment advisors like HSC Wealth Advisors. You should determine whether an advisor is registered. On the other hand, professional credentials generally are overseen by an issuing body that controls the criteria needed to earn the credential.
All Financial Credentials Are Not Created Equal
Some financial credentials involve demanding criteria to earn and sustain, allowing you to verify the status of anyone claiming to hold that credential and some have formal disciplinary processes. Other credentials are comparatively easy to obtain and possibly maintained simply by paying an annual fee.
As you comparison shop, you should research what it takes to earn and maintain a financial credential. While credentials often suggest a degree of special training or experience of some magnitude, they also may be used as a marketing or self-promotional ploy. Be wary of financial advisors who make too much of their credential, or try to tout their credential as the reason you should hire them. Credentials should never be the sole reason you select a wealth advisor.
You could certainly get advice from someone without credentials, but knowing more about credentials can help you ask the right questions about the services and fee structures advisors provide, so you can make an educated choice.
Hopefully, this discussion of the abundance of abbreviations or acronyms used in the financial services industry has been informative and yet not overwhelming. Consistent with the CFP®, CPA/PFS, AIF® and CFA credentials, as well as some of the other financial credentials held by your team members at HSC Wealth Advisors, we feel that as fiduciaries, our commitment to our clients' best interests makes a difference every day.