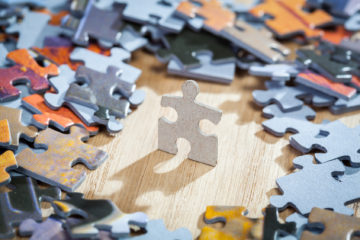 FAFSA Applications Now Open!
Written by Stacie Rhodes
The free application for Federal Student Aid became available on October 1 and the U.S. Department of Education strongly encourages you to complete your FAFSA by November 1. This application is important to anyone with senior high school students and/or current college students. Regardless of your financial situation, we encourage every applicable family to complete a FAFSA application as early as possible. In an analysis by NerdWallet, authors Simons and Helhoski (2016) found that a total of $2.7 billion in free federal grant money was leftover in 2014 as more than 1.4 million high school graduates did not complete a FAFSA application.  While it may seem like one more thing to add to your already full to-do list, this early application window is viewed as a benefit in many ways.
Why does this matter?
Bear with me for a minute as I ask you to visualize a large puzzle comprised of many pieces. This puzzle represents the uncertainty of how to fund college tuition – a stressor for many families. For some, the puzzle is easily solved by the allocation of previously saved funds to pay for tuition. For others, that is just not an option. If you happen to fall in the latter bucket, it is ok! There are still many opportunities and puzzle pieces that can fit together in a strategic way that release the burden and stress of footing the entire bill of higher education.
Knowing and understanding the portion of tuition your family unit is expected to pay is one significant piece of the puzzle.  Within two weeks of completing your FAFSA application, you will receive a Student Aid Report (SAR) that you should review to ensure the completeness and accuracy of the information you originally provided in the FAFSA application. Displayed in the upper right-hand corner of this report is the Expected Family Contribution (EFC) that targets the amount you will be expected to pay for the colleges and/or universities you identified in your FAFSA application as institutions to which you have or may apply. This assessed family contribution is not the final out of pocket amount you will pay, but merely an estimate before factoring in other puzzle pieces. The purpose of the Student Aid Report is to provide you with a clearer picture of the cost to be potentially covered by FAFSA and the gaps left to be filled.
What do I need to do on my FAFSA application?
Step 1: Visit the website for the FAFSA Student Aid deadlines and find the specific deadlines for the state in which you reside (https://fafsa.gov/deadlines.htm#). Be aware that state, federal, and specific college application deadlines may differ!
Step 2: Visit the FAFSA website and start the application process (https://fafsa.gov/index.htm)
Step 3: Have your tax information from two years prior (2016 for the 2018-2019 school year) readily available to complete the form.
Step 4: Include all universities to which you have or are considering applying to on the FAFSA application.
Step 5: Discuss the results of the Student Aid Report with your advisor to consider additional pieces of the puzzle!
How will your advisor help?
We understand you all have a lot going on during this season of change. As parents of college freshmen are still acclimating to a quieter home, parents of high school seniors are trying to embrace the chaos and demands of their student's final senior high chapter. Emotions are high, schedules chaotic and time limited. While you undoubtedly deserve your well-earned rest, we at HSC Wealth Advisors would be remiss if we failed to encourage the completion of this application. Set aside a few hours of time, grab a good cup of coffee and knock it out. Share with us your results and we will collaborate to solve the rest of the puzzle.
References
Simons, V. & Helhoski, A. (2016). How Students Missed Out on $2.7 Billion in Free FAFSA College Aid. NerdWallet. https://www.nerdwallet.com/blog/loans/student-loans/college-students-fafsa-money/#table.