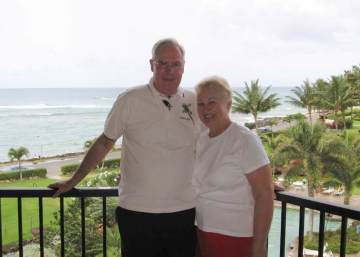 Retirement Lessons Learned
Written by Sandy Stuart
Well, I am finally starting to feel very retired. I am the first of the HSC Wealth Advisors to retire. We have helped many clients transition to retirement, but I am the first staff person to hang up my spurs. Sharon Wrenn followed me closely.
But I am the "point man".  That's a military term that refers to the guy who has to be the first person leading a patrol. If there are any land mines in the path or any enemy ambushes, it's the point man who will most likely first encounter them. Fortunately, my retirement has been as smooth as one could hope. We moved from our old residence that had four bedrooms, a full basement and a large attic. Our retirement home is the local Lynchburg Westminster Canterbury (WC). We have one of the larger units, with two bedrooms (each with a full bath), a kitchen, a living room, a den and a nice verandah.
You would think we would fit nicely. We don't. We just accumulated way too much stuff during our extensive travels. This leads me to lesson learned #1. Visualize where you are going to retire and start ridding yourself of what is not going to fit. I know of many retirees who are not going to move despite having way too much house for their life in retirement. They are paying way too much in real estate taxes, utilities and general maintenance. But they are trapped because they have too much stuff to which they are emotionally attached.
We brought in our kids to see what they wanted. We were amazed at how many of our "treasures" no one wanted. Nobody wanted the two oil paintings of me as a baby! You may ask why my parents have two oil paintings of their first-born. Because I was born before color film was available in my hometown of Panama. And I was sooooo cute. Still, there are no takers today. My kids have their own pictures of their own kids and in color. Default to E-bay and Good Will.
Lesson #2 has to do with the human side of the situation. We have encountered a whole new lifestyle. Everything is done for us. We are fed very well and otherwise looked after. We aren't even to change a light bulb or flip a circuit breaker. Our "job" is to look at all the opportunities and identify where we wish to serve and participate. I have quickly learned that one can easily become over-committed even in retirement. But better to be over-committed than sit around watching TV.
There is also the problem of not being able to do some of the things we used to do that we LIKED to do. For instance, my wife is really starting to miss cooking. But we have 3 dining "venues" at which we can eat: a formal dining room with attentive waiters; a cafeteria; and a bar (also with attentive waiters). My wife has discussed with some of the other "residents" how she misses cooking.  They just smile and say, "You'll get over it".  There are also workshops, craft facilities and gardening plots. Even so, it's not quite like working on your own stuff in your own home and yard. There are also tons of activities for those who want to be out and about town. You can drive yourself or use WC provided transport.
There is another subtle human effect. Around the office and our church, I am usually one of the older guys, if not the eldest guy. But I walk into WC and I am one of the younger residents. It's like taking a youth elixir. All of a sudden, I am a young pup.
Another feeling issue is that of security. WC is a continuing care facility that can and will take care of us right up through the condition of severe dementia and Alzheimer's. We know a number of residents who have a spouse in pretty bad shape. They are very, very thankful that their loved one is a short, indoor walk away and is under continuous care. It is hard to put a dollar figure on what that degree of security is worth.
So that is my initial report on retirement. We'll get better at it and will report any subsequent lessons learned as we encounter them.