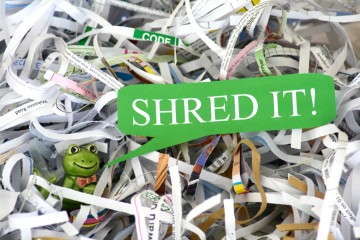 Is it Time to Declutter?
Do you have confidential documents waiting to be shredded? You may be unaware that HSC Wealth Advisors can accomplish this for you through our secure Kodiak shredding program.
How does it work? All you need to do is bag the items you wish to have shredded, and drop it off at our office.  Your documents will be immediately placed in our securely locked shred bin and shredded upon appointment. Our current service provider is Kodiak Shredding, an AAA-Certified Document Destruction Service.  A member of the HSC staff personally monitors the shredding process on our premises, as well as through video surveillance, to verify all documents are destroyed. HSC Wealth Advisors is serious about security and takes every measure to ensure confidential information is destroyed properly, we encourage you to do the same.  If you have any questions or wish to drop off some shredding material, please call us at (434) 316-9356.
For those of you who do not live nearby, contact your local bank or credit union as many will provide an occasional shredding service to their customers.
Happy Friday!